All users of HSU Information Systems will soon be required to use multi-factor authentication.
What is Multi-Factor Authentication (MFA)?
Multi-factor authentication (MFA) is the process in which a person accesses a computer system or application and must prove they are who they say they are by using two forms of authentication to log in, such as (1) something they know, (2) something they have, or (3) something they are.
What can you use to log in?
You can use either the Duo Mobile App, a Hardware Token, or (if you use a Macbook) TouchID to log in with Muli-factor authentication (MFA). We recommend having two devices with one acting as a backup. You can have two smart devices, like a phone and a tablet, or one smart device and a hardware token
Just like your bank requires you to confirm that you are you by sending a text or call, DUO does the same thing for your HSU account. By adding this important extra security layer for everyone at HSU, we can prevent ransomware and many other hacking attempts. 
The CSU provides a license to DUO to enable us to implement this requirement. Below are some helpful tips for working with DUO:
Make sure you have more than one second factor set up, like a token or your desk or home phone, in case your main second factor fails

If you have a smart phone set up as your second factor and are upgrading your phone, use 

DUO Restore

 to update your settings

Click "Remember me for 12 hours" if you're going to be working for a while. Note that, if you've changed your DUO settings to "Automatically send this device a Duo Push", you may not be able to access this setting. If you reset your 

When I log in

 setting to "Ask me to choose an authentication method", you'll be able to access it again.
On your mobile device
Go to your phone's App Store (Google Play Store or Apple App Store). Search for "DUO mobile", download and install this App. In the Apple App Store, it looks like this: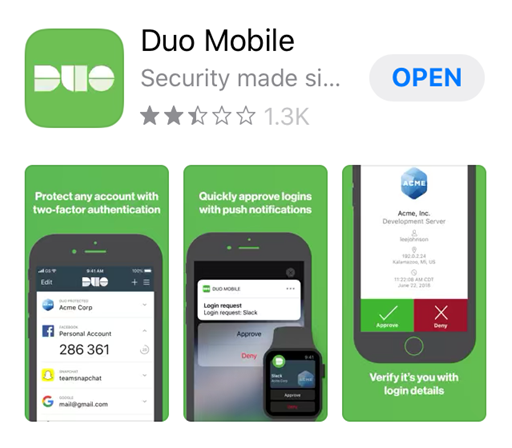 Once installed on your mobile device, you may need to allow Notifications (helps a lot when using DUO):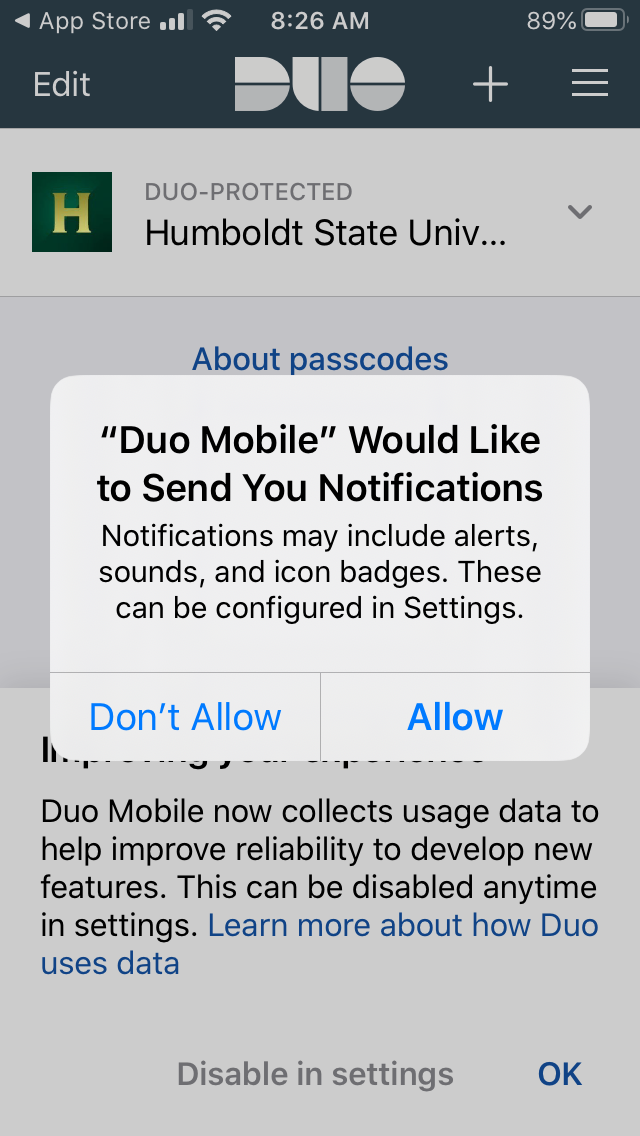 Touch Add account, or New: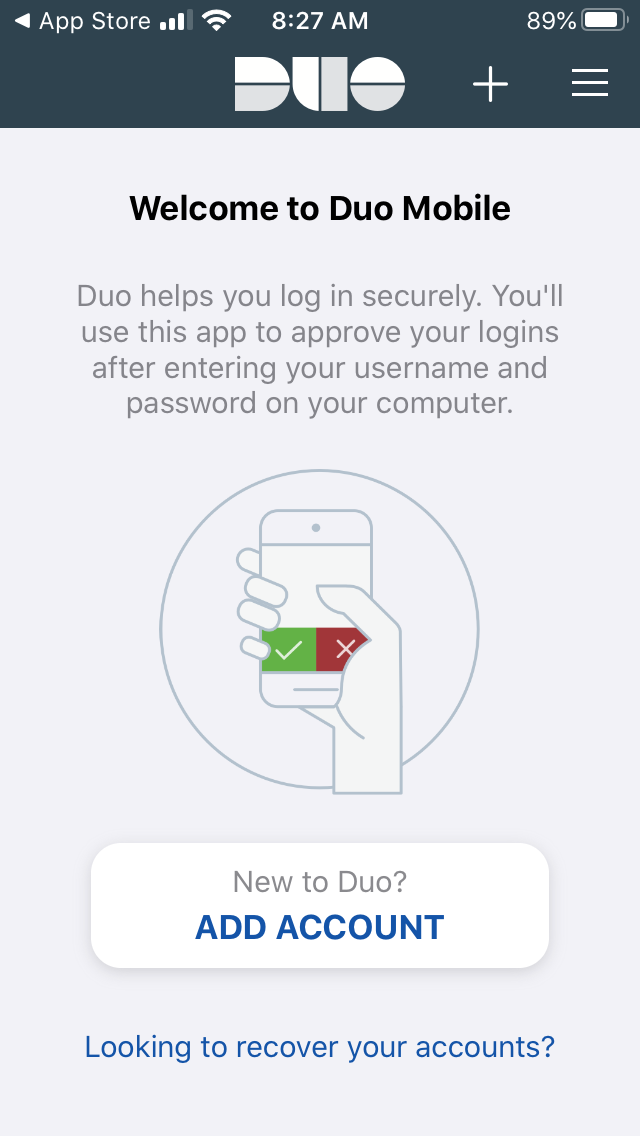 Allow access to the phone's Camera: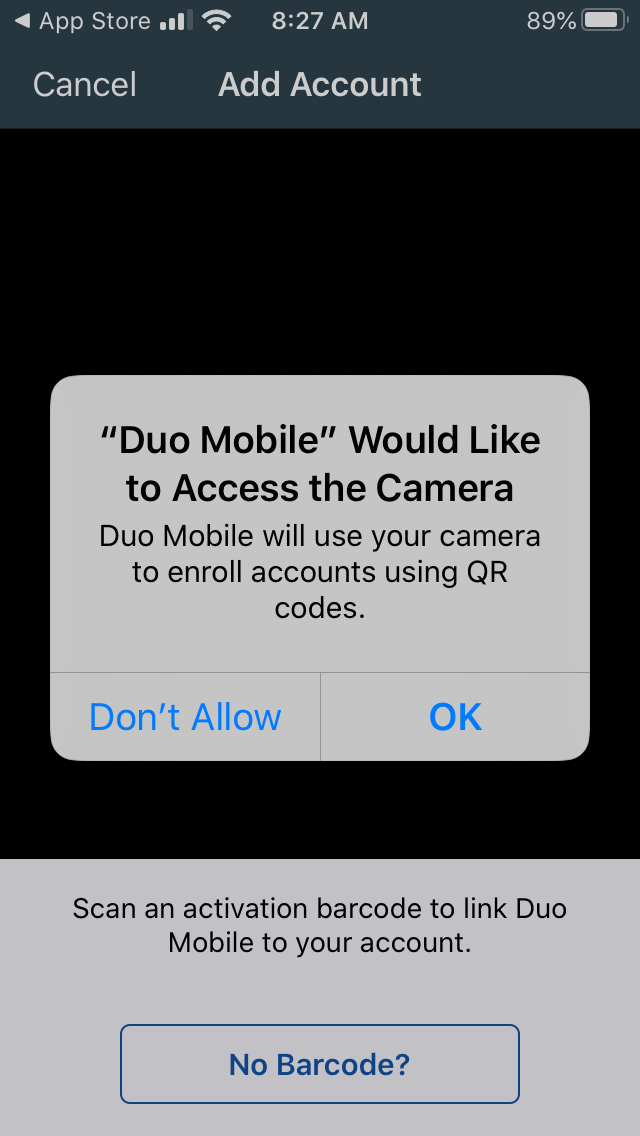 Work through until you see the camera waiting. 
Next you need to add this mobile device to your HSU DUO login using a web browser on a computer.
On a computer you are able to sign into
Open a website that requires DUO, like http://my.humboldt.edu 
If it just opens to your portal (after typing your password), then try a different web browser that has not been used that day. For example, if you are using Google Chrome, open Firefox and go to the HSU web site. 
Skip ahead for existing DUO users.
For new DUO users: you should get a "Start setup" screen: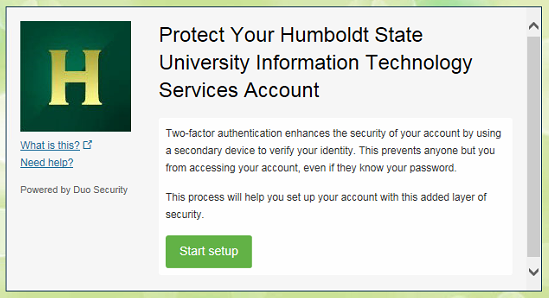 Select mobile phone: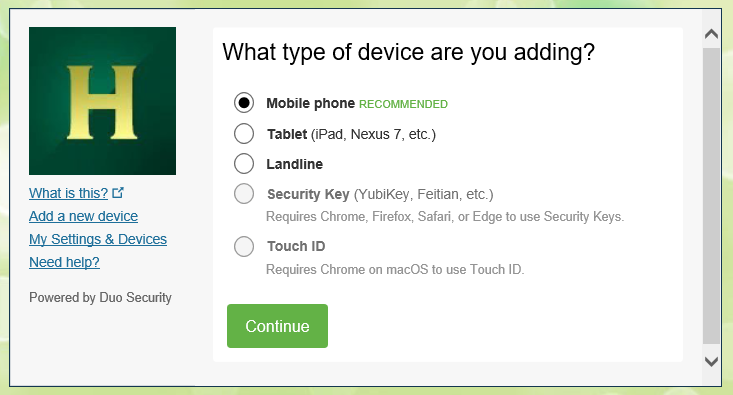 Choose what brand: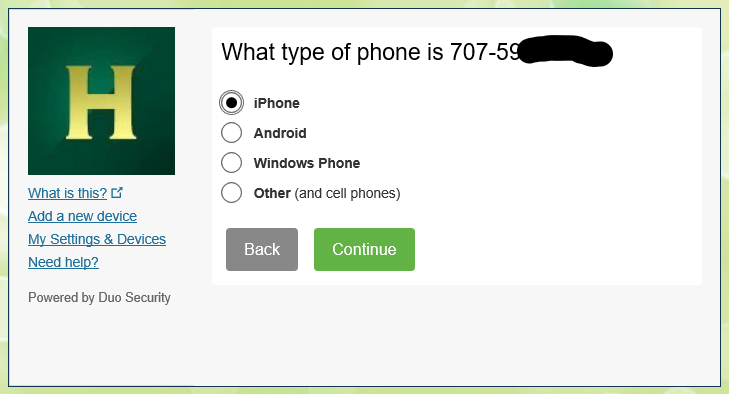 Skip to continue for new users.
For existing DUO users: Once you get to a place where the DUO console is, click "Add a new device."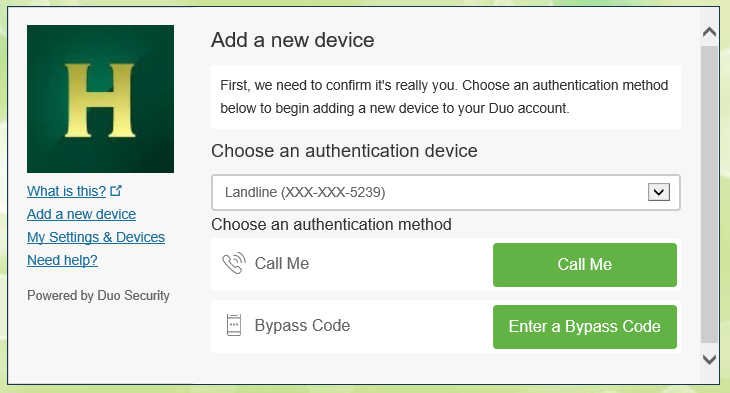 You will need to authenticate over an existing device: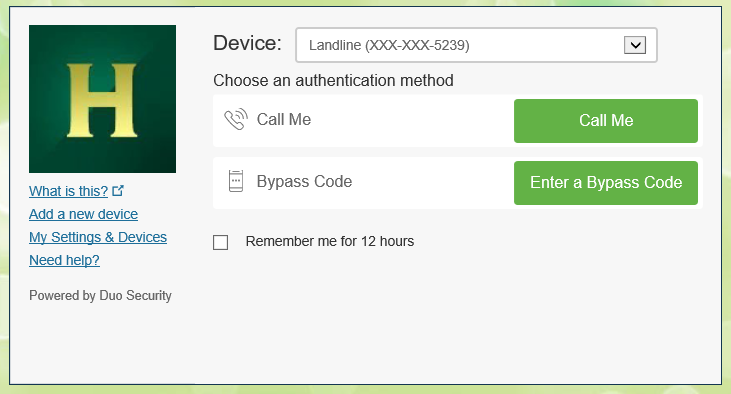 Select what type of device to add (most likely a Mobile phone in this case):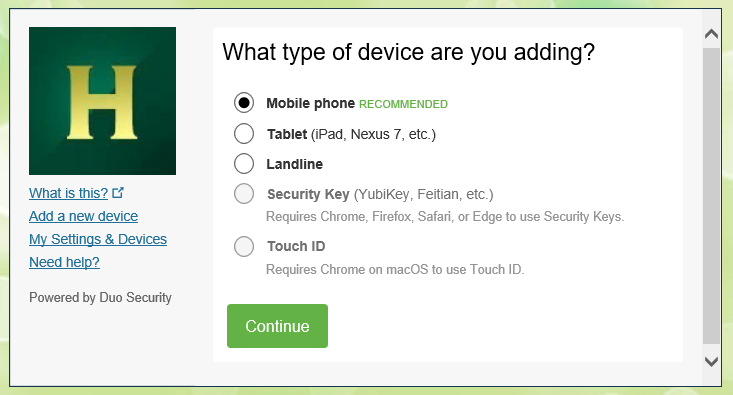 Enter your phone's number: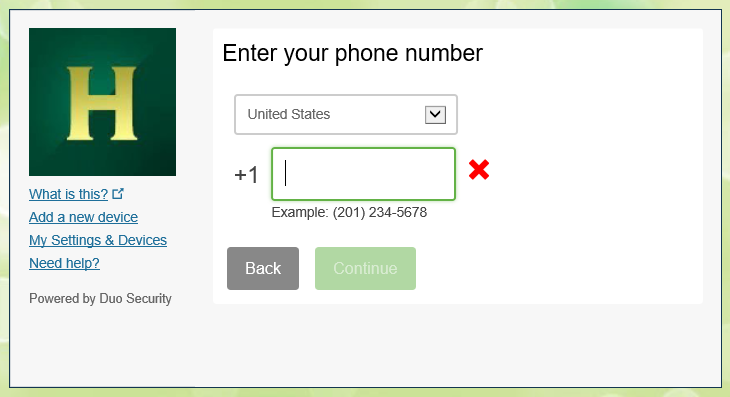 And verify…: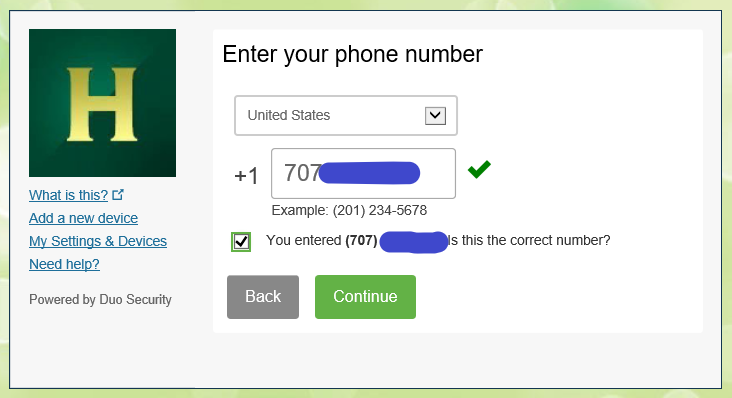 Select the brand of phone (HONK if you have a Windows Phone!):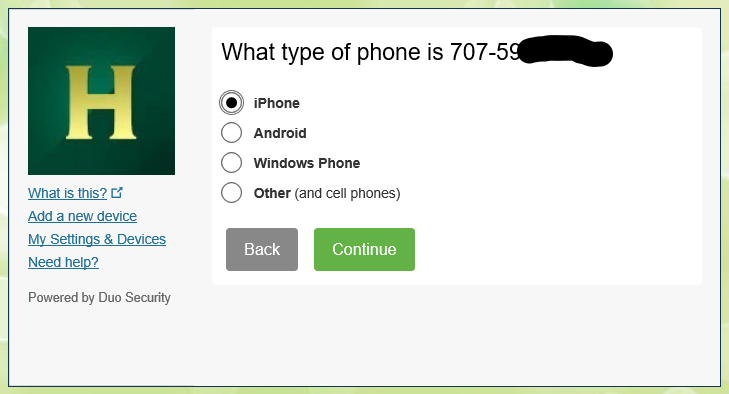 You should already have the app waiting, so click "I have Duo Mobile installed":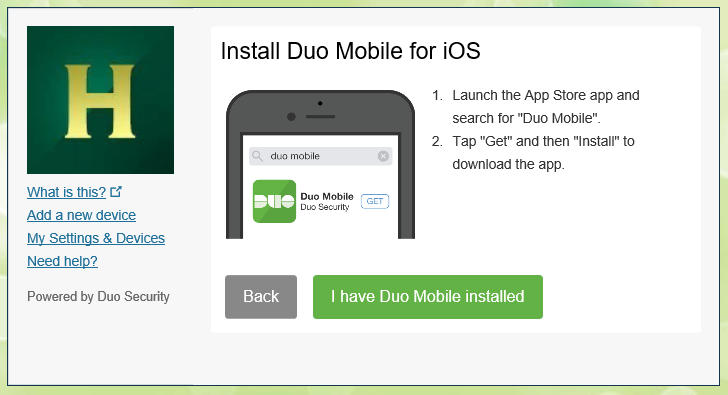 Point your phone's camera at the QR code:
Alright! Your device should be added: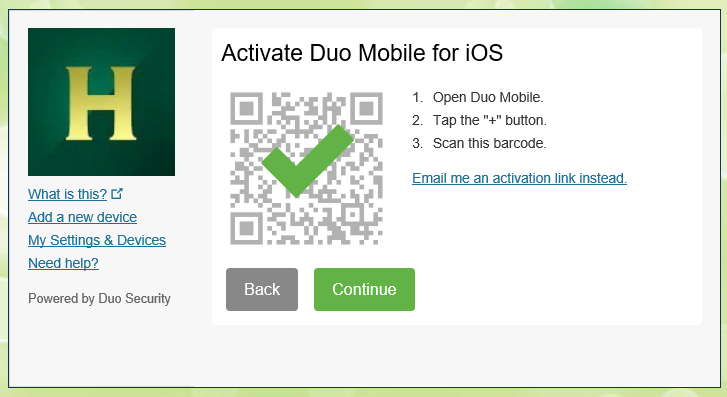 To update these settings, visit this guide https://guide.duo.com/manage-devices
Help Desk Hours
Weekdays: 8am-8pm
Weekends: 12pm-8pm
After hours emergencies:
Call UPD at 826-5555
System Status